Loaner Kits
Traveling trunks and STEM kits are great ways to extend the learning experience beyond the walls of the High Desert Museum. Check one out today!
Traveling
Trunks
Trunks are a great way to extend the learning experience of the High Desert Museum and bring it back to the classroom.
These trunks are all-inclusive, curriculum-based learning units designed to enliven classroom learning through authentic materials and hands-on lessons. Each trunk contains artifacts about the topic and standards-based curriculum with background information.
Cost: Two weeks for $25.
BOOK NOW
We do our best to respond to requests quickly. However, due to the high number of inquiries, you will hear from us within a week of the submission date via email or phone call. Traveling trunk and STEM kit inquiries must be submitted at least one week in advance of the requested dates.
The following trunks are available: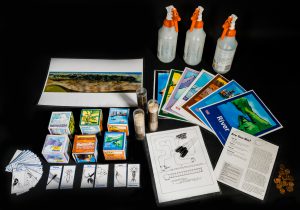 Journey through the Water Cycle
Using games and hands-on activities, this kit guides the students through the water cycle, watersheds, erosion and deposition.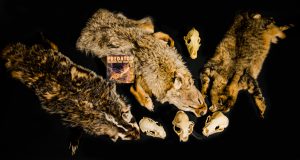 Skulls and Pelts of High Desert Animals
Use skulls and pelts to explore the adaptations of animals in the region.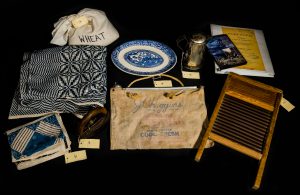 Traveling the Trail
Through materials and artifacts, students explore the Oregon Trail.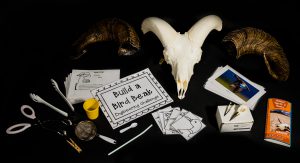 Biomimicry: Nature Inspires Design
From helmets to safety barriers, animals inspire the design of safer equipment and materials. Using this kit, students investigate animal adaptations and create their own safety devices. The kit includes five skulls and consumable materials.
STEM Kits
Don't miss this opportunity to borrow STEM kits developed in collaboration with teachers at Buckingham Elementary School in Bend. Each kit is aligned with Next Generation Science Standards (NGSS) and contains the curriculum and materials needed to teach the unit.
Cost: Two weeks for $25.
BOOK NOW
The following kits are available:
Eco-engineers
How do animals and plants change the environment to meet their needs? Students will explore plants and animals through hands-on lessons, engineering practices and field investigations. This kit meets kindergarten NGSS. and deposition.
Biomimicry
How do plants and animals protect themselves? Through engineering design, hands-on activities and observations, students will study the structures of different plants and animals and use the information to solve a real-world problem. This kit meets 1st grade NGSS.
Biodiversity
How can biologists collect and analyze information about plants and animals in various habitats? Students will become biologists and explore local biodiversity, set up trail cameras and more! Best paired with the Squirrels: An Introduction to Field Investigations Discovery Class. This kit meets 2nd grade NGSS. Educators must participate in a 20-minute training with Museum staff before borrowing this kit.