Backpack Explorers
Tuesdays, 10:00 am – 11:00 am
Come on an adventure! Children ages 3-5* and their caregivers investigate science, art, music, stories and culture in a fun, hands-on manner. Don backpacks filled with exciting objects while journeying through the Museum's nature trails and exhibits. New themes weekly!
$15 per child. Members receive 20% discount. Non-members pay Museum admission for accompanying adult. 
*Due to face covering requirements at the Museum, we ask that caregivers bring to the program only the children between 3 and 5 years old registered for Backpack Explorers. Everyone is required to wear a mask in the classroom.
Per High Desert Museum policy, no refunds can be issued. For cases of illness or emergency, with notice 24 hours before the class, a class transfer may be issued.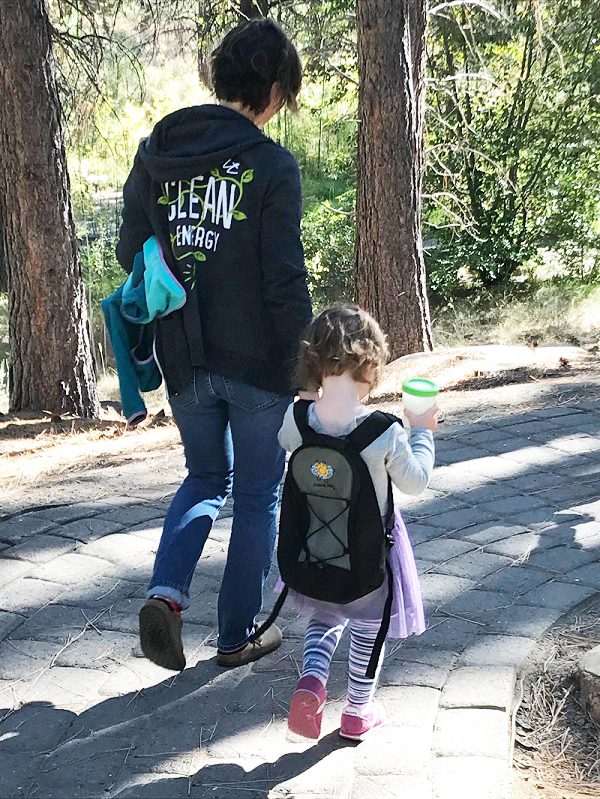 January 11
Warmth in Winter – canceled
What keeps you warm at night? See how the Miller family stays warm on the ranch and how High Desert creatures, both warm-blooded and cold, stay nice and toasty the whole winter through.
January 18
Pokey Porcupine – canceled
With a coat of sharp quills, this High Desert creature knows how to keep predators away. We'll look up close at the life of a porcupine and hone our observation skills.
January 25
Burrowing Beasts – canceled
Why do some High Desert animals live in elaborate burrows? Find out which animals live life underground and try creating a burrow of your own.
February 1
Junior Geologists – CLICK HERE TO BOOK NOW
Why do volcanoes erupt? Are there rocks that float? How did volcanoes shape the High Desert? Come on a geologic adventure and find out how the Earth changes through time.
February 8
Winter Impressions – CLICK HERE TO BOOK NOW
Experience the beauty of winter as we use the outdoors as inspiration for art-making. Create cards for loved ones with seasonal scenes of the High Desert.
February 15
Turtle & Tortoise Time – CLICK HERE TO BOOK NOW
What IS the difference between a turtle and a tortoise? Are there any similarities? Dive into the world of shells and scutes to find out!
February 22
Otter-ly Amazing – CLICK HERE TO BOOK NOW
Otters sleep 12 hours a day to store energy for their bounding, somersaulting and sliding around the river. Come discover what makes these aquatic wonders so special.