Backpack Explorers
Tuesdays, 10:00 am – 11:00 am
Come on an adventure! Children ages 3-5* and their caregivers investigate science, art, music, stories and culture in a fun, hands-on manner. Don backpacks filled with exciting objects while journeying through the Museum's nature trails and exhibits. New themes weekly!
$15 per child. Members receive 20% discount. Non-members pay Museum admission for accompanying adult. 
*Due to face covering requirements at the Museum, we ask that caregivers bring to the program only the children between 3 and 5 years old registered for Backpack Explorers. Everyone is required to wear a mask in the classroom.
Per High Desert Museum policy, no refunds can be issued. For cases of illness or emergency, with notice 24 hours before the class, a class transfer may be issued.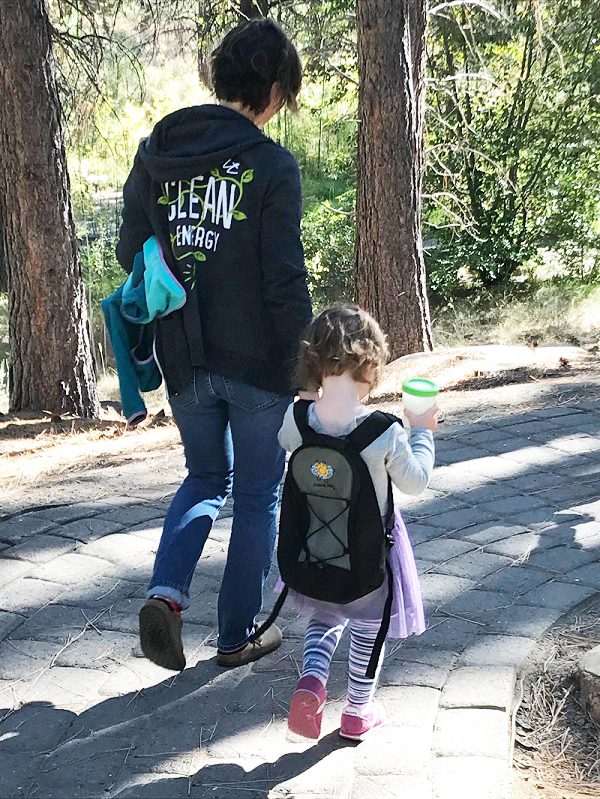 September 7
Critter Collage
Animal friends will visit our studio and inspire artistic creations. Exploring the techniques of artists such as Ekua Holmes, Yuyi Morales and Eric Carle, we will experiment with color and texture to create our own masterpieces.
September 14
Art in Nature 
Participate in indoor and outdoor art projects using natural materials. Take some projects home and create other works of art that are meant to be changed over time by wind, rain, erosion and other forces of nature, eventually disappearing.
September 21
Museum in the Making 
If you could create any kind of museum or exhibit, what would it be? Learn about what makes a museum exhibit and dream up your own museum model featuring your own work of art.
September 28
Art Adventure
Connect with new friends, move and explore on your own art adventure. We will play games based on the art of Herve Tullet and hear an animal-themed story. After story time we will make our own work of art based on our story time adventure.
October 5
Ranger Ready 
Be on the lookout! Wildland fire crews play an important role in keeping our forests healthy. Tour a historic ranger station, check out what it was like to work on the front line on a forest fire and learn about the Museum's prescribed burns in 2018 and 2021.
October 12
My First Nature Journal 
Nature journaling helps us pay attention to our surroundings. Come with a sense of wonder and learn how to document observations about the natural world by painting pictures and preserving textures.
October 19
Chicken Chatter
Off to the ranch we go! Feed the chickens and see if they laid any eggs. Do experiments and learn why eggs are so strong.
October 26
Creatures of the Night – CLICK HERE TO BOOK NOW
Did you hear that? What was it? This class is your chance to get a close-up look at some of the many creatures that come out at night. Being nocturnal is popular in the animal world.
November 2
Unbeatable Beaks – CLICK HERE TO BOOK NOW
Why do bird beaks look the way they do? Have you ever seen a bird eat? Let's look at some feathered friends and see what breakfast looks like for them. Find out what a barn owl eats for dinner!
November 9
Fish Tale – CLICK HERE TO BOOK NOW
Have you ever wondered what a day would be like in the life of a fish? Uncover the answer as we get close to the Museum's fish and explore their underwater world.
November 16
Animal Trackers – CLICK HERE TO BOOK NOW
Whose trail is that? Be a detective and use the clues left behind by animals to find out who has been where and what they were doing.