Backpack Explorers for Children
Wednesdays, 10:00 am – 11:00 am
Come on an adventure! Children ages 3-5 and their caregivers learn together through science, art, music, stories and culture with fun, hands-on activities. Explore the Museum's nature trails and exhibitions with one of our incredible Museum educators! New themes weekly!
$15 per child. Members receive 20% discount. Non-members pay Museum admission for accompanying adult. $5 materials fee for siblings younger than 3 who participate in crafts.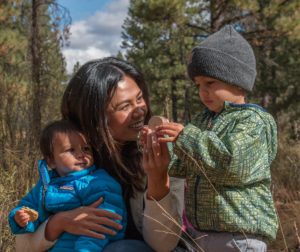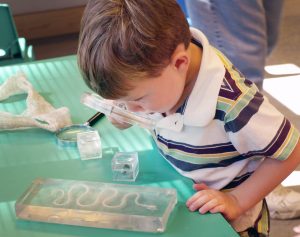 December 6 – Cool Camouflage – SOLD OUT
Can you see me now? Come discover how predators and prey stay safe and unseen and create artwork to camouflage a critter!
---
December 13 – Winter Impressions – RSVP – Only a few spots left
Experience the beauty of winter as we use the outdoors as inspiration for artmaking. Create cards for loved ones with seasonal scenes of the High Desert. 
---
January 3 – Critter Collage – SOLD OUT
Visit animal friends and create animal-inspired art. Explore artistic techniques and experiment with color and texture in creating masterpieces of your very own.
---
January 10 – Animal Builders – SOLD OUT
Dens, burrows and nests… oh my! Animals are incredible builders. Learn about the structures animals build and come build a temporary structure out of nature blocks.
---
January 17 – Tails and Scales – SOLD OUT
Are reptiles as sneaky as they seem? What is the difference between a reptile and an amphibian? Explore these amazing creatures close up and through active movement.
---
January 24 – Snow! – RSVP
In the winter, water may fall from the sky as sleet, hail or snow. We'll take a closer look at frozen water on the Blue Planet. Bring your warm coats and mittens!
---
January 31 – Storytime – RSVP
Stories can transport us to other worlds. Gather around as we act out a story and practice creating your very own tales.
---
February 7 – Pokey Porcupine – SOLD OUT
With a coat of sharp quills, this High Desert creature knows how to keep predators away. We'll take an up-close look at the life of a porcupine and hone our observation skills.
---
February 14 – Feathered Friends – SOLD OUT
Flying, soaring, diving— the sky is the limit to what birds can do. Let's look at some feathered friends and see what incredible creature features they have!
---
February 21 – Turtle and Tortoise Time – SOLD OUT
What is the difference between a turtle and a tortoise? Are there any similarities? Dive into the world of shells and scutes to find out!
---
February 28 – Animals in Winter – SOLD OUT
What keeps you warm at night? See how High Desert creatures, both warm and cold-blooded, stay nice and toasty the whole winter through.
---
Per High Desert Museum policy, no refunds can be issued. For cases of illness or emergency, with notice 24 hours before the class, a class transfer may be issued.