The Museum Collection
The High Desert Museum possesses a collection of approximately 29,000 objects from the Great Basin, Plateau and Pacific Northwest territories (includes portions of Oregon, Nevada, Washington, Idaho and California). The collections range from historic artifacts of the pioneer days to cultural artifacts from various Native American groups and consists of clothing, regalia, furniture, tools, archaeological materials, basketry, paintings, drawings, sculpture, and western and contemporary art, rare books and photographs.
The authentic DeMoss Stagecoach is a representative Old West artifact in our collections and possibly the most famous Western American stagecoach. This stagecoach was once owned by Henry James "Hank" Monk, who used it to run great quantities of gold before railroad times, as well as to transport passengers such as Horace Greeley, the Prince of Wales (later King Edward VII), Gen. Ulysses S. Grant, Gen. Winfield Scott Hancock, Prince Alexander of Russia (to a Bill Cody buffalo hunt) and President Rutherford B. Hayes.
Our Native American collections include historic and prehistoric cultural artifacts as well as outstanding contemporary works by regional masters such as Rick Bartow, Pat Courtney Gold and Lillian Pitt. Other non-native western art represented include works by Nick Eggenhofer, Edward Borein, Edward Quigley and Charles M. Russell.
The Museum also houses and interprets the renowned Doris Swayze Bounds Collection of Native American artifacts, a legacy of native Columbia River Plateau heritage donated in 1990. Bounds passionately collected and exhaustively documented exquisitely beaded bags, moccasins, and saddles, headdresses, breastplates, paintings, sculpture, and drawings; all within the High Desert region. Groups represented in this collection include Umatilla, Wasco, Wishram, Paiute, Washo, Chehalis, Quinault, Nez Perce, Skokomish, Chinook, Tillamook, Yakima, Warm Springs, Haida, Salish, Yaqui and more.
The Museum' s collection is particularly strong in the realm of United States Forest Service objects and archives, the history of the Basque in the region, Native American regalia, and ' buckaroo artifacts regionally reflecting the California vaquero rangeland traditions. The Museum also houses an impressive collection of objects reflecting the Chinese experience in the region, frontier medicine artifacts, Native American basketry, Edward Curtis photographs, period costumes, furniture and firearms.
Accessing the Collection
To access our collections for research or otherwise please download and submit a Request for Access to Collections form. For questions concerning the collections, please contact our Collections department at 541-382-4754 ext. 392 or contact us.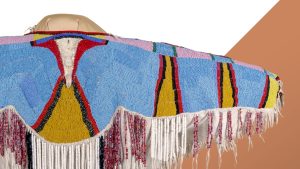 Dressed in Earth and Sky
Learn more about the spiritual connection Plateau people have with items made by Plateau artists. Tisa Matheson (Nimipuu) and Phillip Cash Cash, Ph.D. (Weyíiletpuu and Niimíipuu) offer a deeper look at a Plateau woman's beaded dress, hat, eagle feather headdress and man's painted war shirt on display in the By Hand Through Memory exhibition.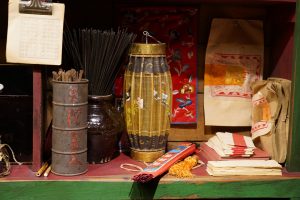 Stories from the High Desert
Dive into a deeply engaging scene in Spirit of the West with one object from our collection. Learn more about the Hi Loy Mercantile, which depicts an early 20th century Chinese business and community hub. Using a golden lantern, the virtual tour opens the world of Chinese immigrants in Silver City, Idaho in the late 1800s, lighting the way into the story of Chinese miners who came to boomtowns across the High Desert.