Guest Services FAQs
This is a list of the guest services that the High Desert Museum offers. If you have additional questions, please contact us at 541-382-4754 ext. 273.
Education Center
The High Desert Museum offers two classrooms for rent – perfect for art classes, workshops and more! Contact us for rental rates or visit our calendar to find out about upcoming events.
Dining and Shopping
Grab lunch at the Rimrock Café and find a great gift at Silver Sage Trading store. Please bring a reusable water bottle as well. You can refill onsite to stay hydrated! Water bottles are also available onsite for purchase. Admission to the café and store is always free.
Strollers are complimentary at Admissions.
Refunds
The following Refund Policy is in effect for all purchases made from High Desert Museum.
For memberships, event tickets and donations, there are no refunds.
For facility rental, please see refund policy as stated in our Facility Rental Contract.
For Kids Camp: CANCELLATION POLICY:
If you must cancel your registration for any reason, please notify the Museum as soon as possible. If you cancel, more than three weeks out, you will receive a 75% refund. A 50% refund will be given to cancellations made two weeks prior to the first day of camp. Cancellations made less than two weeks prior to the first day of camp will not be refunded. Be aware that refunds will not be given for partial or unattended days. 
Parking
Parking is free and RV and bus parking is available. Thanks to a grant from Pacific Power, the High Desert Museum now has electric vehicle charging stations! Learn more.
Pets
Pets are not allowed within the Museum grounds, for their safety and that of the animals in our care. Service animals are the only animals permitted within the grounds. Please see our Service Animal Policy. The Museum offers dog kennels, where your dog can relax and cool off in the parking and picnic area. Water is available – be sure to bring a bowl. Contact Admissions for a key and lock to secure your pet. Please note that Museum personnel do not monitor the kennels – your dog is your responsibility.
Please don't feed the animals!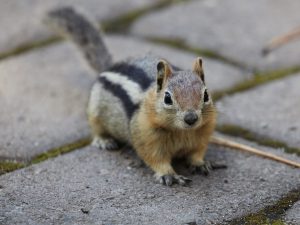 Please don't approach the chipmunks and squirrels on the grounds or offer them food. They are wild animals and could bite. Please monitor your children around them.
Film, Video, Photography Policy
As a visitor to the Museum, you're welcome to take videos and still photography for personal, noncommercial use. Read our complete Imagery Noncommercial Uses Policy.
Non-discrimination Statement
The U.S. Department of Agriculture (USDA) prohibits discrimination in all of its programs and activities on the basis of race, color, national origin, age, disability and where applicable, sex (including gender identity and expression), marital status, familial status, parental status, religion, sexual orientation, political beliefs, genetic information, reprisal or because all or part of an individual's income is derived from any public assistance program. (Not all prohibited bases apply to all programs.) Persons with disabilities who require alternative means for communication of program information (Braille, large print, audiotape, etc.) should contact USDA's TARGET Center at (202) 720-2600 (voice and TDD).
To file a complaint of discrimination, write to:
USDA Assistant Secretary for Civil Rights
Office of the Assistant Secretary for Civil Rights
1400 Independence Avenue, S.W.
Stop 9410
Washington, DC 20250-9410