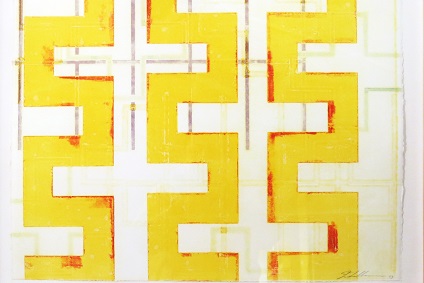 Behind the scenes at the Museum, we care for an amazing collection of more than 30,000 objects. These objects range from art and rare books to an original Smokey Bear costume.
Art in the Museum's collection consists of over 1,000 items, including a number of well-known historical artists. Recent acquisitions have focused on contemporary artwork by Native artists. It is in this area—contemporary artwork representative of the diverse perspectives in the High Desert—that the Museum has prioritized growth to achieve our vision for a dynamic collection.
For instance, this winter the Museum was excited to accession into its collection a compelling, relevant piece of contemporary art by Joe Feddersen (Confederated Tribes of Colville). The work is a 23" x 26" monoprint, a version of Feddersen's most well-known medium of printmaking. "Palouse Series" shows Feddersen's ubiquitous overlapping style of geometric shapes drawn from his landscape and culture. Bold yellow lines run vertically on the paper, zigzagging their way across the page, accented by red ink. Behind the yellow bars, a fainter grey grid fills the top half of the page. The shapes are reminiscent of imagery seen in other traditional Indigenous Plateau work.
Feddersen has had a very successful career, with no signs of stopping. After finishing his Master's of Fine Arts, Feddersen taught at Evergreen State College in Olympia, Washington, where he was a professor for 20 years. He was awarded the prestigious Eiteljorg Fellowship for Native American Fine Art in 2001 and exhibited a retrospective of his work in 2008 at the Froelick Gallery. In addition, he has exhibited countless times in galleries and museums, worked as an artist-in-residence, received awards and recognitions, and guest-curated across the country.
Importantly, we've been excited to add works to the collection in recent years by other Indigenous artists, including Pat Courtney Gold (Wasco), Lillian Pitt (Wasco, Yakama, Warm Springs), James Lavadour (Walla Walla), Rick Bartow (Wiyot), and Marie Watt (Seneca).
We're eager for the opportunity to exhibit all these pieces at the Museum.
ADDING TO THE COLLECTION
All 30,000-plus objects in our collection have gone through a specific process to legally accept objects to be held in the public trust called accessioning. Potential objects can be submitted for consideration via our online donation form. It is essential to include as much historical and provenance background as possible for our decision-making process. The object's condition and mission relevance will be assessed and, if found appropriate, will move on to our Collections Committee. The Collections Committee will review the objects and associated information and have an in-depth conversation about the relevance to the collection. Some of the topics discussed in consideration for accession include mission, ongoing care, storage, and future use. If the object meets our requirements, it will then be passed on to the Board of Trustees for approval. Then, it can finally be officially accessioned into our collection!