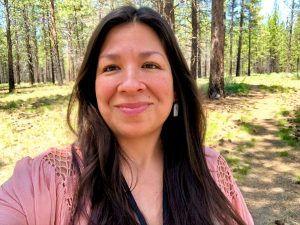 Welcome! Tell us a little about yourself.
First, I want to say how excited I am to have the opportunity to work at the High Desert Museum as the new Director of Philanthropy. It is an honor to lead fundraising initiatives that will help fuel the Museum's work and shape the direction of the Museum in the future.
I'm originally from West Virginia and have lived for the past decade in Santa Fe, NM and Portland, OR. My mother is Indigenous and from Peru. Her first language was Quechua. Through her I am connected to a culture with deep roots in Andean traditions. With my love of mountain music and the outdoors, I also share a strong connection to the Appalachian roots of my childhood.
What excites you most about working at the High Desert Museum?
I'm excited to be in this beautiful landscape. I love the smell of pine in the forest. Being here at the Museum is an opportunity to learn more about and celebrate this incredible ecosystem, wildlife and the deep cultural significance of the High Desert.
I'm also very excited about the ways that the Museum is bringing arts and culture to this side of the Cascades. I think the challenge of our times is one of imagination and our ability to weave together stories that are so powerfully liberating that they inspire us to work with each other toward the collective good of our communities and planet. I'm so excited to be part of a Museum that is doing such creative and liberating storytelling and lifting up diverse voices and experiences.
What drew you to the work of philanthropy and fundraising?
I began my nonprofit career more than 16 years ago in Central Africa where I was working on a communications project that helped to give women a voice by providing them with weekly radio programs and the opportunity to report on and discuss issues that impacted them and their families. There I learned how empowering it is when a community can articulate their own story and advocate for change.
When I transitioned into fundraising work more than 12 years ago, I was drawn to it because I see working in community to do good as a healing practice. I think that one of the most hopeful capacities we have as human beings is the ability to set aside our differences and come together to do something that benefits others. We have the potential to transcend our fears and take action from a place of heart, and I love that philanthropy invites us to step into that space and to ask, what can I do to help?
What would you say to those who give to support the Museum today?
First, I would say thank you. When I see the many, many names of the people who give to support this work I feel such a huge wave of gratitude. I would also say, you are part of something incredibly important. Not just for the community here but for society as a whole. Together, all of us, from donors to volunteers, visitors to staff, trustees to community partners, are a part of constructing what this Museum will be in the future, and that is exciting!
Will we all agree on what that vision should be? Of course not and that's ok. We each bring our unique perspectives to the table. My hope is that we can all agree that the big questions facing us today are not limited to two sides but are in most cases incredibly complex and require deep listening to one another. I think that when we step into that complexity together, we can find a path toward understanding. I'm willing to walk through that complexity with you. I believe that if we lead with our hearts and step into a space with less certainty but more possibility, that amazing things will happen for the community and for the Museum.
Any final thoughts?
I know that I have much to learn from each of you who make up the Museum family and I look forward to getting to know you. For anyone reading this, whether you are a donor or not, please know that you are welcome to reach out to me by email or phone if you'd like to connect for conversation or a cup of coffee. I very much look forward to getting to know you.
ecantoral@highdesertmuseum.org
541.382.4754 ext. 329