04.30.20




6:00 pm - 7:00 pm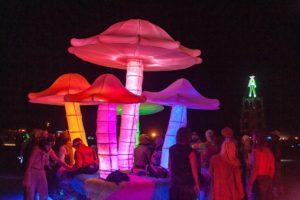 Burning Man Project Lecture has been postponed and we hope to reschedule it when the Museum is able to reopen. In this instance, we are offering refunds to those who request them. Please send your refund request, along with the email used to RSVP, to info@highdesertmuseum.org. Please check our webpage for updates.
If you want a peek behind the curtain of the Burning Man phenomenon, join us for a lecture from a representative of the Burning Man Project. We will learn what makes the art and culture of the legendary event so unique and why it can only take place in the Black Rock Desert.
Doors open at 5:00 pm
No-host bar
Café open 5:00 pm — 6:00 pm
$7, Members receive 20% discount
The following Refund Policy is in effect for the High Desert Museum. For Museum events and programs: no refunds, unless the Museum cancels the program or event. Please see the Refund Policy that is specific to Kids Camps. For more information on the policy, contact the Museum at 541-382-4754 ext. 241.