Spirit of the West
Spirit of the West offers an unforgettable walk through time. Your journey starts with a stroll past a Northern Paiute shelter and a fur trapper's camp where all the historical details are depicted in incredible detail. Continue through the Hudson's Bay Company fort, alongside an Oregon Trail wagon, through a hard rock mine, past a settler's cabin and into the boomtown of Silver City.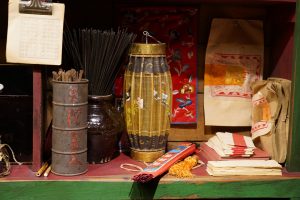 Stories from the High Desert
Dive into a deeply engaging scene in Spirit of the West. Learn more about the Hi Loy Mercantile, which depicts an early 20th century Chinese business and community hub. Using a golden lantern that's part of the Museum's collection, the virtual tour opens the world of Chinese immigrants in Silver City, Idaho in the late 1800s. The lantern lights the way into the story of Chinese miners who came to boomtowns across the High Desert.