"Every third bite of food you take, you can thank a bee or other pollinator for… "
E.O. Wilson, Forgotten Pollinators.
I was once a field biologist, lucky enough to call catching and identifying butterflies part of my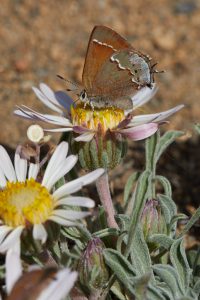 job. On one particularly hot afternoon, though, my pursuit of a rare butterfly was not going as
planned. It would fly close by, only to slip my net at the very last second. As the white wings
fluttered away for what felt like the hundredth time that day, I gave a resigned sigh. I let my net
slide to the ground. But mere moments later, I glanced down and there, resting gently on my
sleeve, was the butterfly. It was one of the most perfect, beautiful things I had ever seen. A new
appreciation of these insects was born.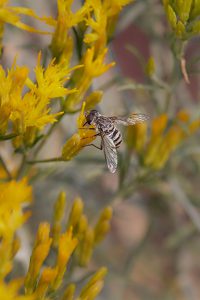 Butterflies offer much more than beauty. Along with bees, hummingbirds, moths, wasps and beetles, they are pollinators whose small stature belies their importance. Pollinators transfer pollen and enable many plants to produce fruits and seeds. This makes them vital to the reproduction of many native and commercial plants. Our native flowering plants are key to healthy soils and clean air and water. Plus, more than 150 different crops, such as apples,
almonds and tomatoes, rely on them — a 2016 report estimates that pollinators are essential to three-quarters of the world's crops, worth more than $577 billion. Pollinators and the plants they support also hold rich cultural values that no dollar amount could ever cover. Pollinators are under threat on a global scale. Pressures include habitat loss and fragmentation, invasive species, disease and the widespread use of certain harmful pesticides. Despite this, I am feeling optimistic. Last spring, we held an event to shine a spotlight on efforts to protect pollinators. The City of Bend, the U.S. Fish and Wildlife Service, Sisters Middle School and Your Garden Companion shared their conservation successes and answered audience questions about how to support pollinators of all kinds. Their passion and commitment to this cause, and the enthusiasm with which audience members responded, gave me hope for the future of pollinators.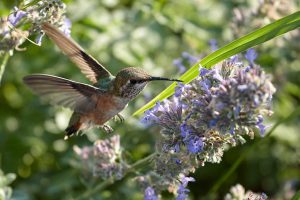 At the Museum, we are all keen to contribute to these local conservation actions. This summer, we look forward to celebrating National Pollinator Week and helping visitors to contribute to the Pacific Northwest Bumble Bee Atlas. We are also planning to plant a pollinator habitat of native flowering plants on the grounds. In the fall, we will begin a professional development program to help teachers to establish pollinator habitats at three different Central Oregon schools.
If you are keen to support local pollinators yourself, a few things to consider:
• If you have a yard or patio space, plant some native plants that the pollinators will love.
Get inspiration from the Xerces Society, or chat with experts at your local plant nursery.
• Build a bee condo!
• Tell your friends and family about the importance of pollinators.
I am no longer out in the wilderness identifying butterflies for a living. But my role at the Museum is to
connect people to why such species matter and how we can help them to thrive for generations to come
— and that, for me, is even more fulfilling.
Photographs by volunteer Museum photographer Abbott Schindler