Virtual Oregon Encounters
In-person Oregon Encounters returns April 22, 2024 – April 26, 2024! 
Chapter 1: Introduction
Begin your Oregon Encounters journey with an overview of the video series and some guiding questions including how Oregon's history has shaped the state today.
Chapter 1 Review Questions for Students
How many federally recognized tribes are there in Oregon? Name them. Which tribal nation is closest to where you live?
What is one way that you predict events that happened in the 1800s have shaped your life today?
Chapter 2: Fur Trade
Join us for a conversation with Jane, who tells us about how women and children participated in the fur trading industry and her life in an early 1800's fur encampment.
Chapter 2 Review Questions for Students
How would you describe fur trappers' relationship with the land and natural resources? 

Include evidence

 

from the video to support your answer.

 

How were women involved with the fur trapping industry?

 

Why do you think a beaver was chosen as Oregon's state mammal

 and selected to be on the state flag

? What does it symbolize to you? 

What other symbols represent Oregon to you?

 Why?

 
Chapter 3: 

The

 Oregon Trail 
Learn more about the motivations and experiences of overland trail emigrants from two people who endured the journey.  
Chapter 3 Review Questions for Students
What were 

some challenges faced by travelers on the Oregon Tra

il?

 

Compare and contrast Elizabeth's and Leti

t

ia Carson's experiences on the Oregon Trail.

 How were 

their

 experiences similar? How were they different?

 

What was something that surprised you after hearing Letitia Carson's story?

 
Chapter 4: 

Oral History with Wilson 

Wewa

, Citizen of the Confederated Tribes of Warm Springs
Consider the perspectives of Indigenous people as we hear about the experiences of Northern Paiute people as they were told to Wilson Wewa by his elders.  
Chapter 4 Review Questions for Students
D

escribe Mr. 

Wewa's

 relatives' attitudes toward fences

. 

How does it compare to white settlers' perspectives?

 

 

Include evidence from the video to support your answer.

 

 

In every community — including families, neighborhoods

,

 and schools — there are people who have knowledge and skills to share — ways of knowing and doing that often come from years of experience and have been passed down across generations. 

In this chapter, Wilson 

Wewa

 shared important perspectives that he kn

ew about because of stories he heard from relatives.
Now, it's your turn. Interview a family member or friend using the questions below or with your own original set of questions.  
Here are some questions to consider, or feel free to make up your own: 
What are you most proud of?
What is the hardest thing you have ever had to do?
Who has had the biggest influence on your life? How? 
Chapter 5: 

Mining at Kanaka Flat
Discover how historians use historical documents, like newspapers and county records, to understand more about the lived experiences of people in the past, including those who made up the mining community of Kanaka Flat.  
Chapter 5 Review Questions for Students
The photograph of George Maio shown in the video was taken by Peter Britt, a 

well-known

 photographer from Jacksonville, Oregon. 

Photographs 

are 

one

 type of primary source document 

which 

that 

historians use as evidence for events 

that happened in the past. 

 
Using the research guide from the National Archives, evaluate another Peter Britt photograph, courtesy of Southern Oregon University Special Collections. Choose one of the two photos below for your analysis: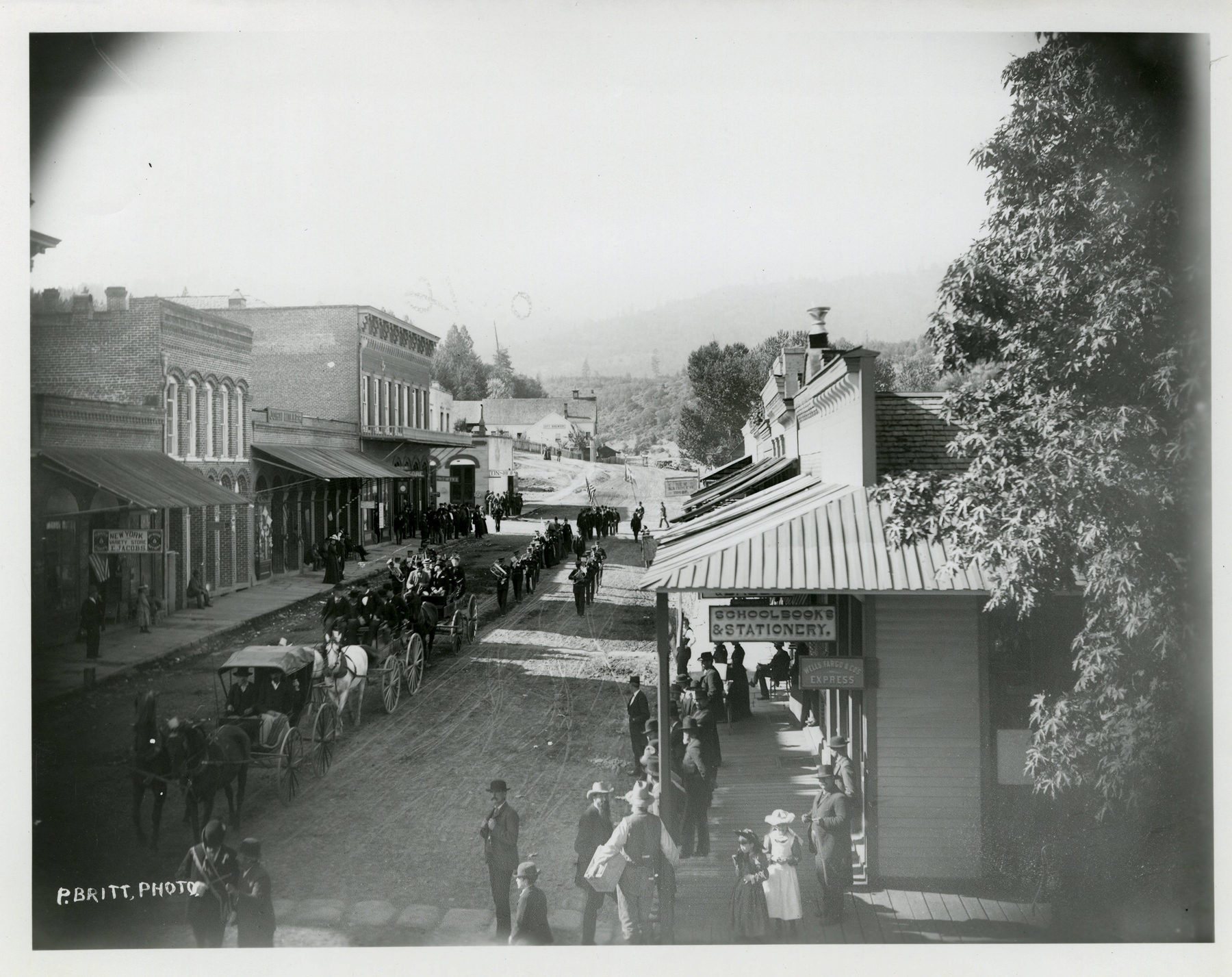 Chapter 

6

: 

Vaquero

 Culture
Meet a respected and skilled vaquero, Juan Redon, as he shares about his heritage and lifestyle raising cattle and training horses in Oregon's High Desert.  
Chapter 6 Review Questions for Students
What would your cowboy hat look like? Draw a design. What sorts of patterns are on your hat and what do they represent?

 

As Juan demonstrated, 

language highlights our

 rich, multicultural world

.  What languages are a part of your culture? Do you ever blend words from different languages together? Write about an example

 from your own life and language

.

 
Hint: If you're having a hard time thinking of words, think of names of international foods that may be a part of your language, but come for other languages. 
Additional Resources for Educators
Oregon Encounters is made possible by Jonas Family Foundation, Juan Young Trust and the following: