---
Andy Warhol's Endangered Species: From the Collection of Jordan D. Schnitzer and his Family Foundation
December 9, 2023  – April 7, 2024
---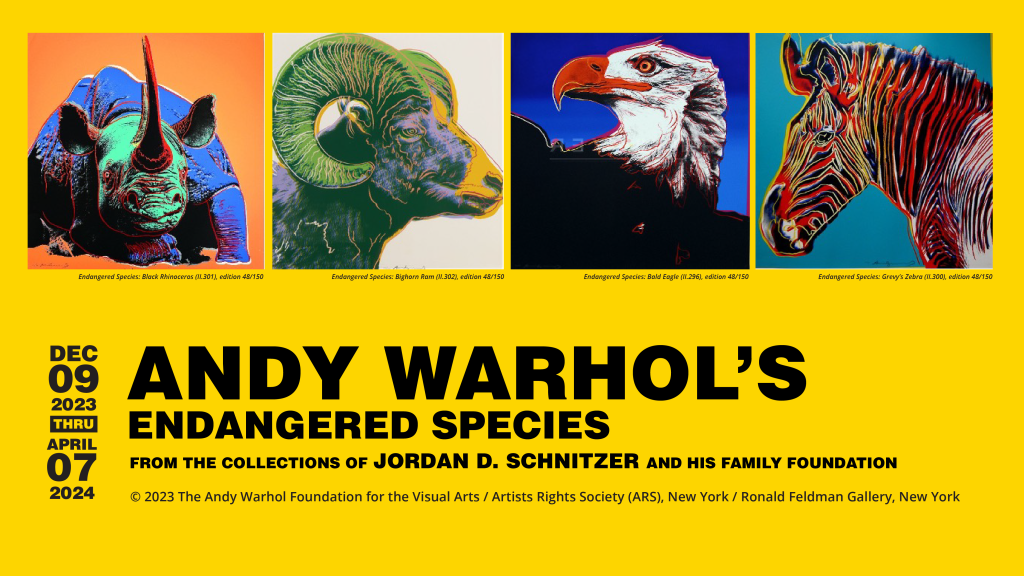 The High Desert Museum will unveil its much-anticipated exhibition of Andy Warhol's Endangered Species to the public on Saturday, Dec. 9, offering a rare look at the collection. The exhibition is a key component in the Museum's yearlong recognition of the 50th anniversary of the Endangered Species Act through exhibitions and public programs that explore and reflect the ESA's impact in the High Desert and beyond.
The exhibition, titled Andy Warhol's Endangered Species: From the Collections of Jordan D. Schnitzer and his Family Foundation, will showcase the Pop Art icon's complete Endangered Species series (1983), as well as select works from Warhol's Skull series, Vanishing Animals series and one of Warhol's iconic Marilyn Monroe works.
The Endangered Species portfolio was commissioned by art dealers Ronald and Frayda Feldman of the Ronald Feldman Gallery in New York City in 1983, 10 years after the Endangered Species Act was signed into law. Warhol created a series of screenprints to raise the profile of endangered animals and draw public attention to their plight. Endangered Species features portraits of 10 animals in peril, depicted in Warhol's bold signature style. As of today, seven of the 10 highlighted animals remain at risk of extinction.Warhol's Endangered Species collection asks observers to reflect on the need for actionable conservation on a global scale. It leverages the same style he used for celebrities to share that these animals deserve the same level of recognition and attention.
"This collection not only offers an unparalleled opportunity to explore the creative genius of one of the 20th century's most influential artists, but it is also meant to engage our visitors in a dialogue about the interplay between humans, landscape and wildlife," said Dana Whitelaw, Ph.D., executive director of the High Desert Museum. "This is an exciting exhibition and particularly relevant as we consider the Endangered Species Act at 50."
Andy Warhol was born on Aug. 6, 1928, to a working-class family in Pittsburgh. After attending the Carnegie Institute of Technology (now Carnegie Mellon University) from 1945 to 1949, Warhol began his art career as a commercial artist for magazines such as Glamour, Vogue and Tiffany & Co. During the 1960s, Warhol turned more of his attention to the pop art movement, experimenting with silk screen printing.
It was in 1962 when Warhol made a name for himself with his first solo pop art exhibit, featuring a large series of silkscreen portraits of Marilyn Monroe, Elvis Presley and Elizabeth Taylor, in addition to his widely recognized series of Campbell's Soup Cans.
The Endangered Species series, created by Warhol in 1983, features 10 works, each a testament to Warhol's unique style and vision. The 900-square-foot gallery will convey the dynamic, ongoing efforts to preserve the highlighted endangered species and highlight the use of art to build a connection to issues such as species conservation.
In recognition of the 50th anniversary of the Endangered Species Act (ESA), the High Desert Museum is embarking on a yearlong series of exhibitions and public programs to explore and reflect on the ESA's impact in the High Desert and beyond. Through the end of the year, the Museum will unfold a series of exhibitions that further the discussion around conservation, including the currently running Wolves: Photography by Ronan Donovan exhibition and Endangered In The High Desert, a regionally focused exhibition opening Nov. 11.
Andy Warhol's Endangered Species will be open through April 7, 2024. It's made possible by the James F. and Marion L. Miller Foundation, 1859 Oregon's Magazine and the Visit Central Oregon Future Fund with support from Cascade A&E and 104.1 FM.
---