Waterston Desert Writing Prize
Ceal Klingler – 2021 Prize Winner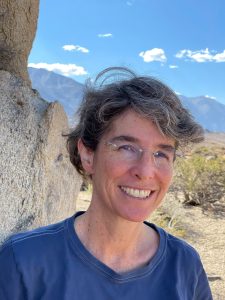 Klingler's winning submission, "How We Live With Each Other," addresses how animals, plants, and other organisms have created livable places with each other at the hard edges of heat, cold, dehydration, floods and fires at the westernmost overlap of the Mojave and Great Basin deserts. Tracing exchanges of air, shelter, pollination, nectar, microbiota, parasites, protein, and pest control, she asks how much we are a part of each other, how much depends on being a good neighbor, and how we can survive our collective futures together. 
Ceal Klingler was born in the Mojave desert, grew up at the northern edges of the Chihuahua desert and has lived in the southernmost Great Basin desert for 24 years. She has a bachelor's degree in linguistics and psychology, a master's degree in biology, and has worked—among other roles—as a copy editor, a biologist, and an analyst and critic of "diabolically bureaucratic environmental impact documents." Her work has focused mostly on western North American deserts, their residents and ecosystems, and their connections to the world at large. 
Klingler's creative nonfiction has appeared in Orion, Natural History, The Sun, Backpacker and High Country News, among other places.
"For me, the Waterston Desert Writing Prize matters more in terms of making contact with a community of desert writers than in terms of financial support. Years ago, Waverly Fitzgerald, a writer and instructor who died in 2019, suggested that I apply for the Waterston Prize, but it was Ellen Waterston's warm, blunt, and humorous writing style that convinced me to try. This project is in part a love letter to my wild neighbors, but—because they'll never read it—I hope it's more than that. I hope my project will help shift anthropocentric and egocentric conversations in literature from what North America's deserts do for us and what we do there to a conversation about how all desert denizens function together at the edge of survival and what we risk losing as deserts migrate north. I hope this project will inspire wonder, thought, and gratitude; I hope it will inspire change." – Ceal Klingler