Waterston Student Essay Competition
Oregon students, tell us your stories!
The Waterston Desert Writing Prize opened a competition for students in 2020 to foster young writers and discover what young creatives want to share about this beautiful region we call home. We can't wait to find out what stories and views 2022 will bring!
The mission of the Waterston Desert Writing Prize is to strengthen and support the literary arts and humanities in the High Desert region through recognition of literary excellence in nonfiction writing about desert landscapes, through community interaction with the winning authors of the annual prize, and presentations and programs that take place in association with the prize.
The Student Essay Competition submissions may address any aspect of the High Desert and will be judged on their contribution to the understanding and appreciation of the region! 
2022 Submission Guidelines
Eligibility
The student essay competition is open to all high school-age students (grades 9-12), 18 years old or younger, who reside in Crook, Deschutes, Harney, Jefferson or Lake Counties in Oregon. Public school, private school and home-schooled students are eligible.
​Schedule
Essays may be submitted by email to waterston@highdesertmuseum.org from January 1, 2022, through May 1, 2022. The winner will be invited to appear at the annual Waterston Desert Writing Prize awards event at the High Desert Museum in September 2022. The award recipient will receive $250.
Submission Guidelines
Essays should be between 750 and 1,000 words of nonfiction prose. Fiction and poems are not eligible. Essays may describe a place, address an issue facing the High Desert and the people who live in it, an observation, or relate a story about the High Desert (historical, contemporary, metaphorical or from the author's personal experience). Summaries of already well-documented topics are discouraged. Submissions must not have been previously published (e.g. in a school newspaper). You must be the sole author and have full ownership of the work.
Evaluation Criteria
Contribution to the understanding and appreciation of the High Desert region, cultures and environment
Originality
Clarity of expression
​How to Submit Your Essay
The deadline to submit your essay is 11:59 pm on Sunday, May 1, 2022. Please submit your essay as a single file attachment (.doc, .docx or PDF) and send to waterston@highdesertmuseum.org.  Do not include any information identifying you in the essay attachment. ​
In the body email, please provide the follow information. Submissions that do not include the following information will not be considered:
Your name
The title of your essay
The best phone number to reach you
Your email address
Your school or location of high-school equivalent education
Your grade level in school
Your age as of May 1, 2022
The statement: "I certify that the attached essay is entirely my own work."
We do not discriminate on any basis, including age, race, sex or sexual orientation, gender identity or expression, ancestry, disability, family status, national origin, or religion.
Award Agreement
Award recipients are asked to agree to the following:
Award recipient grants permission for the Museum to publicize the award.
Award recipient should make every effort to attend the award ceremony and reception in person or virtually in September 2022 at the High Desert Museum in Bend.
Winning submission and finalist submissions, if any, may later be published with an acknowledgment on the High Desert Museum website and/or in other media by the Waterston Desert Writing Prize or High Desert Museum.
Inaugural Student Writing Prize Winner Al Lehto
Al Lehto, a graduate of Redmond Proficiency Academy, won the inaugural Waterston Student Desert Writing Prize for their essay, "Badlands," about the many hours their artist mother spent painting in the Badlands (now a federally designated wilderness area) just east of Bend, and the times they would join her. There, according to Lehto, their mother found solace, escape and inspiration. Al wrote, "As I've grown older, my mom's passion for the aged trees has been more natural, and brought me closer to understanding her compassion for wildlife and longing for the great wide spaces they offer."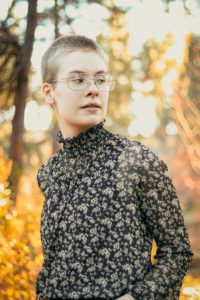 Al attends the University of Oregon majoring in early childhood education. Al's win included a $250 cash prize, and recognition and a reading at the Prize's virtual 2020 award ceremony on September 17, 2020.