How do volunteer wildlife interpreters stay up to date in order to engage visitors? One way is through a volunteer book club. Each month we select a new title to read and discuss that relates to the daily talks we offer. Reading together helps improve our knowledge and enables us to better engage with visitors and respond to questions, not to mention that learning new things is interesting and fun! If you'd like to get in on what the Wildlife Team has been reading, here are a few titles we've looked at recently.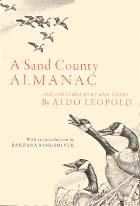 A Sand County Almanac by Aldo Leopold. A must-read for anyone who loves wildlife and seeks to understand the history and current state of wildlife management in the United States. The seminal work of the "father of wildlife ecology," this book is a collection of short essays where the author speaks of a land ethic and our moral responsibility to the natural world—a community to which we belong. Leopold's sentiments have informed the work of the wildlife field and have much in common with how we hope to create connections to wildlife with our visitors.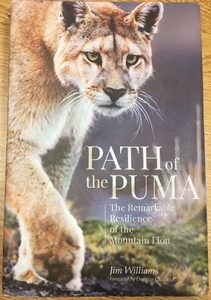 Path of the Puma: The Remarkable Resilience of the Mountain Lion by Jim Williams. If you live in the High Desert you are living with large carnivores, and mountain lions make the news on a regular basis. With our daily Carnivore Talk in full swing, interpreters regularly get questions about these "big cats." Williams goes into detail about the natural history of the mountain lion, why they are important to the landscapes we all share and their conservation in our region and beyond. After reading this one, interpreters are ready to chat about cats with museumgoers.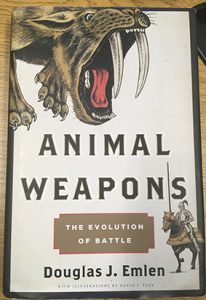 Animal Weapons: The Evolution of Battle by Douglas J. Emlen. Some of the more frequent questions we get about deer and elk are from visitors fascinated by their amazing antlers. The author of this book outlines his perspective as an evolutionary biologist working to understand the factors that can lead to an animal arms race, where species such as deer and elk may compromise their own health to grow out-sized and seemingly unnecessarily large weapons. Read it on your own or ask a volunteer to fill you in after the daily High Desert Hooves talk.
And a few more on the list –
The Fish in the Forest: Salmon and the Web of Life by Dale Stokes
Hurricane Lizards and Plastic Squid: The Fraught and Fascinating Biology of Climate Change by Thor Hanson
Fuzz: When Nature Breaks the Law by Mary Roach
Braiding Sweetgrass: Indigenous Wisdom, Scientific Knowledge and the Teachings of Plants by Robin Wall Kimmerer
Stronghold: One Man's Quest to Save the World's Wild Salmon by Tucker Malarkey
Fur, Fortune and Empire: The Epic History of the Fur Trade in America by Eric Jay Dolin
Collared: Politics and Personalities in Oregon's Wolf Country by Aimee Lyn Eaton
Rewilding Our Hearts: Building Pathways of Compassion and Coexistence by Marc Bekoff
The Predator Paradox: Ending the War with Wolves, Bears, Cougars, and Coyotes by John Shivik
Why Fish Don't Exist: A Story of Loss, Love, and the Hidden Order of Life by Lulu Miller
Nature's Best Hope: A New Approach to Conservation That Starts in Your Yard by Douglas W. Tallamy