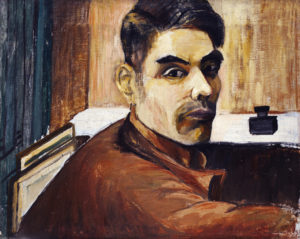 During World War II, the U.S. federal government incarcerated 120,000 people of Japanese ancestry, about two-thirds of whom were United States citizens. The government used racist propaganda and fear-based arguments to justify their actions. For those who were incarcerated—imprisoned without charge—the experience was life-changing.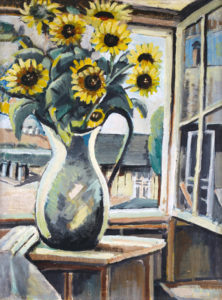 Witness to Wartime: The Painted Diary of Takuichi Fujii examines this painful chapter of American history. Artist Takuichi Fujii was among those imprisoned, first at the Puyallup temporary detention camp on the Washington State Fairgrounds and then at Minidoka Relocation Center, where he lived with his family for over three years. During this time, he painted with oil and watercolors and sculpted. He also kept an illustrated diary. Nearly 400 pages in length, it chronicled his family's forced removal from Seattle and concluded with the closing of Minidoka. Fujii's illustrated diary as well as the other works he created illuminate the bleakness of everyday life in confinement as well as moments of beauty and hope. For some of those incarcerated, art served as a means of expression and survival. Fujii's work makes apparent the resilience of those imprisoned.
After the war, Fujii and his family moved to Utah and then to Chicago as a part of the government's resettlement program. He continued to paint, experimenting with abstraction. After his death in 1964, Fujii's artwork from 1942 onward was kept in storage by his family until his grandson recognized its significance and began translating the diary.
This exhibition offers a rare opportunity to see the breadth of Fujii's work, including his American realist paintings of the 1930s, his wartime paintings and drawings and his postwar abstract expressionist paintings. One historian has called Fujii's illustrated diary "the most remarkable document created by a Japanese-American prisoner during the wartime incarceration." It not only sheds light on the past but continues to resonate today.