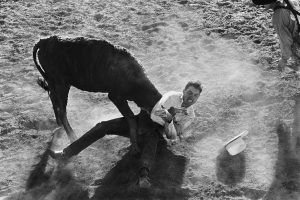 By Kari Mauser
From the moment he attended his first gay rodeo in 1988, photographer Blake Little was hooked. "I was completely drawn to it and I had to be a part of it," he stated. "I wanted to be a cowboy." Pursuing the thrill of his own cowboy dreams through the International Gay Rodeo Association (IGRA), Little became immersed in the spirited Western community. As a participant, Little found himself in a unique place where he could draw on his passion for photography and use his background and skills as a photographer to document the gay rodeo through his camera lens.
Little knew, of course, that the view through a camera lens can be unique, often capturing the world from a different angle than seen when simply passing by. Through his photographs, he invites us to view things as they are, while also challenging us to see them from a different perspective.
What resulted was a series of 41 stunning black-and-white photographs taken between 1988 and 1992. On exhibit at the HDM from December 15, 2017, through April 30, 2018, Blake Little: Photographs from the Gay Rodeo, presents a glimpse into a little-known world, allowing us to explore a story with the intimacy of an insider's point of view. In addition to representing Little's own experience on the gay rodeo circuit, the exhibition also celebrates the lives of many of its participants during those years, capturing the spirit and camaraderie of a vibrant community. The collection elegantly combines the action of roping and riding, while also presenting a portrait of the courageous cowboys and cowgirls behind the scenes.
The exhibition, Little explained, memorializes his own "unforgettable experiences in gay rodeo," and honors "the cowboys who competed with me and left a huge mark on my life." Competitors came from a wide variety of backgrounds, yet the relationships they formed became some of the most important in their lives. The gay rodeo community offered the LGBT cowboys and cowgirls a place where they could be themselves and embrace their true identities. Despite the competitive nature of rodeo, participants were supportive of one another. "For me that was the most memorable and rewarding thing about rodeo," Little stated.
Some of the rodeo participants pictured in Little's photographs still ride, but many have retired and some have passed away.
Blake Little: Photographs from the Gay Rodeo is curated by Johanna Blume, assistant curator of Western art at the Eiteljorg Museum, and offered through the courtesy of the Eiteljorg Museum of American Indians and Western Art, Indianapolis, IN.
This exhibit is a program of ExhibitsUSA and The National Endowment for the Arts.
Made Possible by Cascade Arts & Entertainment, Oregon Cultural Trust and Zolo Media. This project has been funded in part by the Oregon Heritage Commission, Oregon Parks and Recreation Department. With support from the James F. and Marion L. Miller Foundation.
Blake Little, Chute Dogging, Phoenix, Arizona, 1989; archival pigment
printed on Epson exhibition fiber paper, 13.25 x 20 inches; Loan courtesy
of Blake Little.