For many visitors, the Don Kerr Birds of Prey Center is one of the highlights of a day spent at the Museum. Raptors are not just an iconic part of the High Desert — they also have intangible value for cultures worldwide and throughout human history. The human connection to raptors is innate and universal. People everywhere are drawn to these powerful birds.
An important part of the Museum's mission is to create a refuge for disabled raptors and provide the community with opportunities to enjoy them and learn about them up close. We do that with a collection of 30 non-releasable birds that participate in more than 1,000 public programs every year.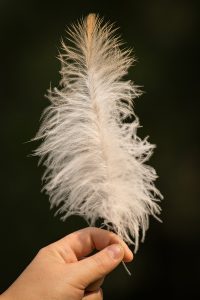 With that volume of education and outreach, raptor handlers quickly learn to anticipate the questions of a curious audience. Wildlife staff works tirelessly with our birds so they are comfortable with people getting close. Once close, people naturally want to touch. Being able to feel and hold something is a crucial component of an educational program. Touching has the potential to create powerful learning experiences. There's a lot you can learn from holding a feather or talon, turning it in your hand, and feeling it in your fingers that would be imperceptible simply looking at a bird from across the room.
Unfortunately, raptors don't enjoy being petted or touched. Instead we offer the chance to handle raptor feathers, talons and wings at our regular talks called Bird of Prey Encounter, during Kids' Camps, in classrooms and during community-outreach programs. Inevitably, people ask if they can keep a feather to take home.
Human fascination with raptors and other birds has not always been reverent or respectful. In some cases, it has led to the exploitation and abuse of wild populations. Many species were once hunted for the commercial value of their feathers, a practice that peaked in the early 1900s. In an effort to halt the commercial trade in bird parts and stem the decline of wild populations, most bird species received protection under the Migratory Bird Treaty Act in 1918. This federal legislation prohibits the possession of bird parts including feathers, eggs and nests, and together with the Lacey Act — which prohibits trade in wildlife, fish and plants that have been illegally taken, possessed, transported or sold — eliminates any legal commercial trade in raptors.
Sadly, sometimes raptors are still killed for their feathers. Because bird parts can command high prices on the black market, it remains illegal for people to keep raptor feathers and for the Museum to give them to anyone without a special permit.
We work closely with the Oregon Department of Fish and Wildlife and the U.S. Fish and Wildlife Service to maintain special permits so we can house live birds. This arrangement ensures that visitors have a place to enjoy raptors while learning about biology and conservation. We also have permits to salvage raptor parts for education so we can make sure the public has opportunities to feel how sharp a falcon's talon is, the softness of an owl's feather and how light birds' bones can be.
On a live bird, feathers eventually wear out. Molting is the process by which birds lose old worn out feathers and replace them with new ones on an annual basis. With 30 live birds molting a full set of feathers every year, we have far more feathers than we would ever need for education. While we cannot allow visitors to take feathers home, we do not throw feathers away. One of behind-the-scenes ways the Museum supports raptor conservation is by making naturally molted feathers and excess salvaged bird parts available for use by Native American Tribal members. Raptors hold deep spiritual significance to most Native cultures. Tribal artisans and craftsman incorporate feathers into incredible works of art that clearly emphasize reverence and respect for the birds. Examples of these beautiful and historic objects are also exhibited at the Museum, illustrating the strong connection between wildlife, history and contemporary culture in the High Desert.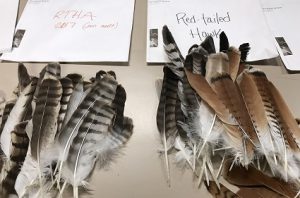 Every year in January the Museum's wildlife staff prepares a report for U.S. Fish and Wildlife Service detailing the use of every live bird and bird part in the collection, including feathers that are part of historical and cultural objects on display. In our By Hand Through Memory permanent exhibition alone there are more than 200 bald and golden eagle feathers on exhibit, each one meticulously identified and inventoried by dedicated collections volunteers. Each item is required by law to be made available to the public a minimum of 12 times per year or for 400 hours, a benchmark the Museum far exceeds by providing exhibitions and programs to the Central Oregon community and visitors 362 days a year.
Extra feathers and other items are carefully packaged and mailed off. Eagle feathers and parts go to the U.S. Fish and Wildlife Service National Eagle Repository in Colorado, and other feathers go to a Liberty Wildlife Non-Eagle Feather Repository in Arizona. These facilities ensure that raptor parts are legally sourced and distributed to Tribal members throughout the country for traditional use. We recently sent off a shipment containing two seasons worth of feather collection, totaling more than 2,500 feathers or more to the two repositories.
This is one small way the Museum works to conserve wild bird populations while simultaneously supporting the rich cultural traditions raptors have been a part of in the High Desert for thousands of years.