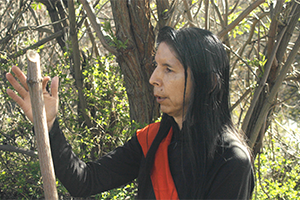 "The flute is an expression of one's essence toward the world. This expression can be joyful. It can be prayerful. It can be life giving. It is a recognition that I am a human being making a connection to the greater world."  — Phillip Cash Cash, Ph.D., Weyíiletpuu (Cayuse) and Niimíipuu (Nez Perce) tribes
Items made by Indigenous Plateau artists hold the spirit of their maker. Creating and using these items strengthens connections between generations of the people and landscapes of the Columbia Plateau region. At the High Desert Museum, we are changing how we care for and interpret cultural items to honor these connections through ongoing collaborations with Plateau knowledge holders.
Our new exhibition Creations of Spirit, grew from these collaborations. For the exhibition, Indigenous Plateau artists created works of art that will be used outside of the Museum. Joe Feddersen (Confederated Tribes of the Colville Reservation) made a root bag that was used this past spring to gather roots. H'Klumaiyat Roberta Kirk (Wasco, Warm Springs, Diné) created regalia for young women to wear during traditional ceremonies. Natalie Kirk (Warm Springs, Wasco, Seminole, Creek, Creole) wove two baskets and Kelli Palmer (Confederated Tribes of Warm Springs) made a putlapa (basket hat) to be used for educational purposes. Jefferson Greene (Confederated Tribes of Warm Springs) constructed a tule reed canoe and paddle to be used by Native youth, and Phillip Cash Cash (Nez Perce, Cayuse) created a flute. By going out into community, these items will help continue cultural traditions for future generations. While at the Museum, they will share stories of this use to increase awareness of contemporary Plateau communities.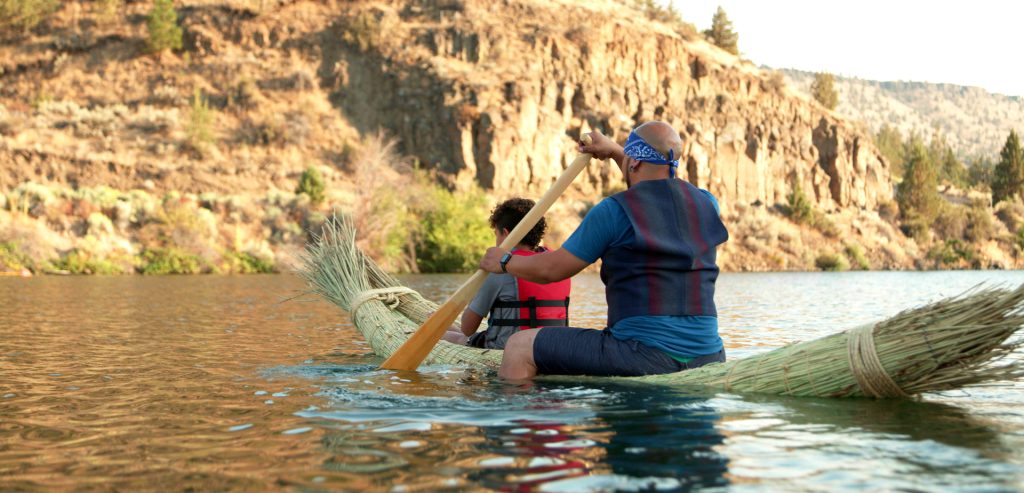 In the exhibition, immersive videos, photographs and quotes will convey the stories of this artwork through the voices of Plateau artists. An interactive installation by RYAN! Feddersen (Confederated Tribes of Colville Reservation) will offer a chance to create your own design on a large Plateau basket. Alongside these works, the exhibition will feature cultural items from the collection at the High Desert Museum. We are also working with the Smithsonian's National Museum of American Indian to bring Plateau cultural items from Washington, D.C. to the Museum for the exhibition.
Ultimately, Creations of Spirit is a celebration of the Plateau people who have always been here and are still here, still creating and still caring for this place for future generations. It invites all of us to consider our responsibility to the world around us and to serve as witnesses to and support contemporary Native communities.
Learn more about the individual cultural items and how you may have the opportunity to borrow one after the exhibition closes.
Creations of Spirit will be on display through October 1, 2023.